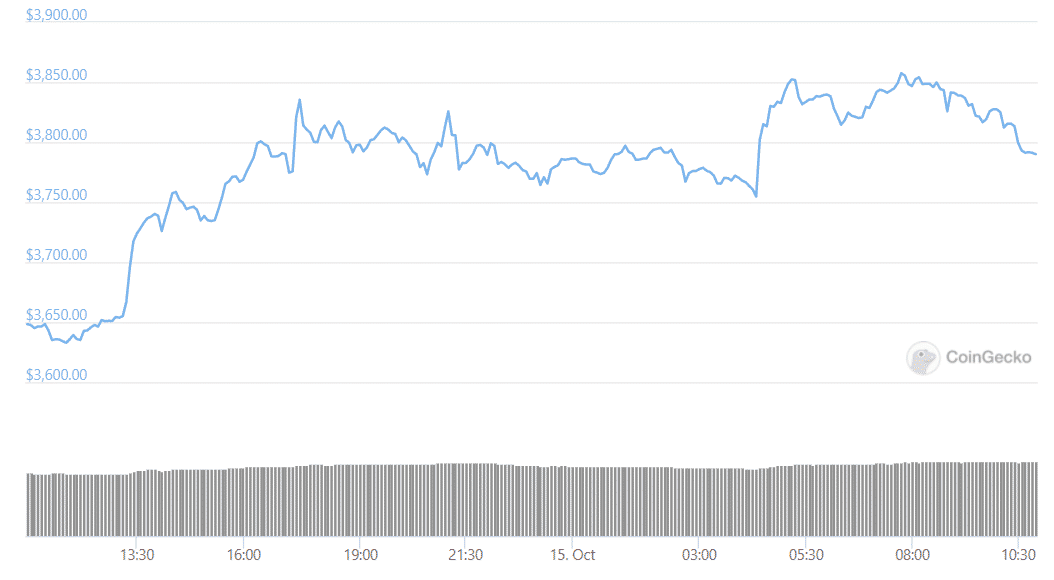 Ethereum jumped 8% in value as the price is slowly approaching the $4000 barrier once again, thanks to the increase in interest in NFTs and DeFi as we are reading more in our latest ETH news today.
Three months ago, Ethereum was selling for less than $2000 after the crash from the record high of $4350 in May. It seems that the cryptocurrency is now back on the upswing as Ethereum jumped 8% to reach levels of $4000 once again. The price of ETH increased over the past 24 hours to shoot past the $3800 price level for the first time since early September as per the data from Nomics. There's no cause for today's price rise as the protocol is between updates while Elon Musk has not started tweeting about it yet and the SEC didn't hint of the ethereum ETF but if you zoom out, there's a growing upward trend. The price of ETH swell by over 90% in the past year and at least four factors contributed to the price rise.
ETH 24-hour Price Chart (Source: Coingecko)
First, the network's core developers made huge progress towards Ethereum 2.0 which moves the blockchain from its current proof of work algorithm to a proof o stake. The move replaces miners with "staked" validators to process the transactions and to provide security, bring faster transactions, and lower fees which is a huge concern for the network that becomes congested. There are a few reasons for the congestion but the rise of DeFi last fall and the growing interest in NFTs are among the main reasons. DeFi originated on the ETH network and while Solana, Binance Smart Chain, and others created a chain that is compatible with peer-to-peer lending and trading apps, ETH is responsible for two-thirds of the value that floats around DeFi.
ETH 7-Day Weekly Price (Source: Coingecko)
NFTs as well come to life on the Ethereum network before being adopted to other chains like Flow and Stacks. The biggest NFT marketplace OpenSea has a monthly trading volume in billions while Axie Infinity has half a billion in monthly trading volume. Ethereum is the main connector to DeFi, NFT, games, and other apps which is why teh demand for this coin is up. However, the supply slowed due to the upgrade to the network meant that transaction fees will go to the network's miners instead but they went to a separate wallet where they get destroyed. So each new block created, a little bit of ETH disappeared and the slowing rate of inflation helps pump the price.